Valérie et Guy Palluy
Valérie et Guy Palluy decided to open a guest house sharing their mutual tastes and the skills they had gained from their own professional careers.
Valérie Palluy
Valérie used to work as a hospital nurse for around 20 years. Through her various functions, she has always enjoyed being in touch with others and she always welcomed people with a lot of care.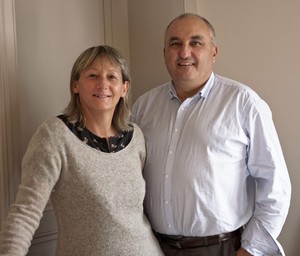 Photo de Valérie et Guy Palluy
Guy Palluy
Guy used to work as a farmer for 30 years. When he was 20, in 1978, he took part in the creation of 'uniferme', a community farm product shop.
After being in charge of public responsibilities, he now wishes to welcome guests, and allow them to consume on site the local products he has been manufacturing for many years. As a native from the area, he knows very well its specificities, its history, and all its various local products.